DFSME Board Member Awarded $700,000 NSF Grant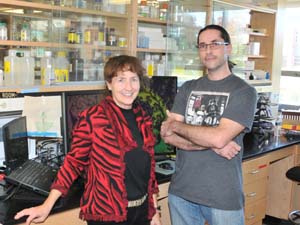 The National Science Foundation has awarded a three-year $700,000 grant supporting a collaborative neuroscience research project by DFSME Board Member Dr. Melissa Harrington.
Dr. Harrington is a professor of biological science and director of the Delaware Institute of Science and Technology at Delaware State University. Her collaborator is Dr. Tomasz Smolinski, associate professor of computer and information science.
The research by Dr. Harrington and Dr. Smolinski focuses on how the efficiency of motor neurons in driving muscle contractions can be altered depending on the previous activity of the motor system.
"If we are ever going to have truly natural prosthetics that can be manipulated by commands from our nervous system," Dr. Harrington says, "we need to understand in detail how the functioning of motor neurons is changed by increased and decreased activity."
Read the full story from Delaware State University